Did you know our skin sheds?
Exfoliation for the skin is very important and necessary in our skincare routine. Our skin naturally sheds often, leaving behind build-up and bacteria causing clogged pores and breakouts. (Not so sweet, huh?) By using a gentle sugar scrub it will help to remove dead skin cells & replace them with new ones leaving your skin feeling fresh, hydrated, smooth, moisturized and looking rejuvenated. Sugar may be one of those things some people try to AVOID or shy away from when it comes to their diet, BUT when it comes to your skin, sugar is actually full of many natural health properties that are beneficial to the restoration of your skin. Sugar is a natural humectant, which means it draws moisture from the environment and locks it into the skin.
Sugar also has the benefit of melting as you use it from the heat of your skin, to better help saturate and heal the area in which applied, so you can customize the product in texture based on your personal skin type and preference.
Gimme Some Sugaa SCRUBS :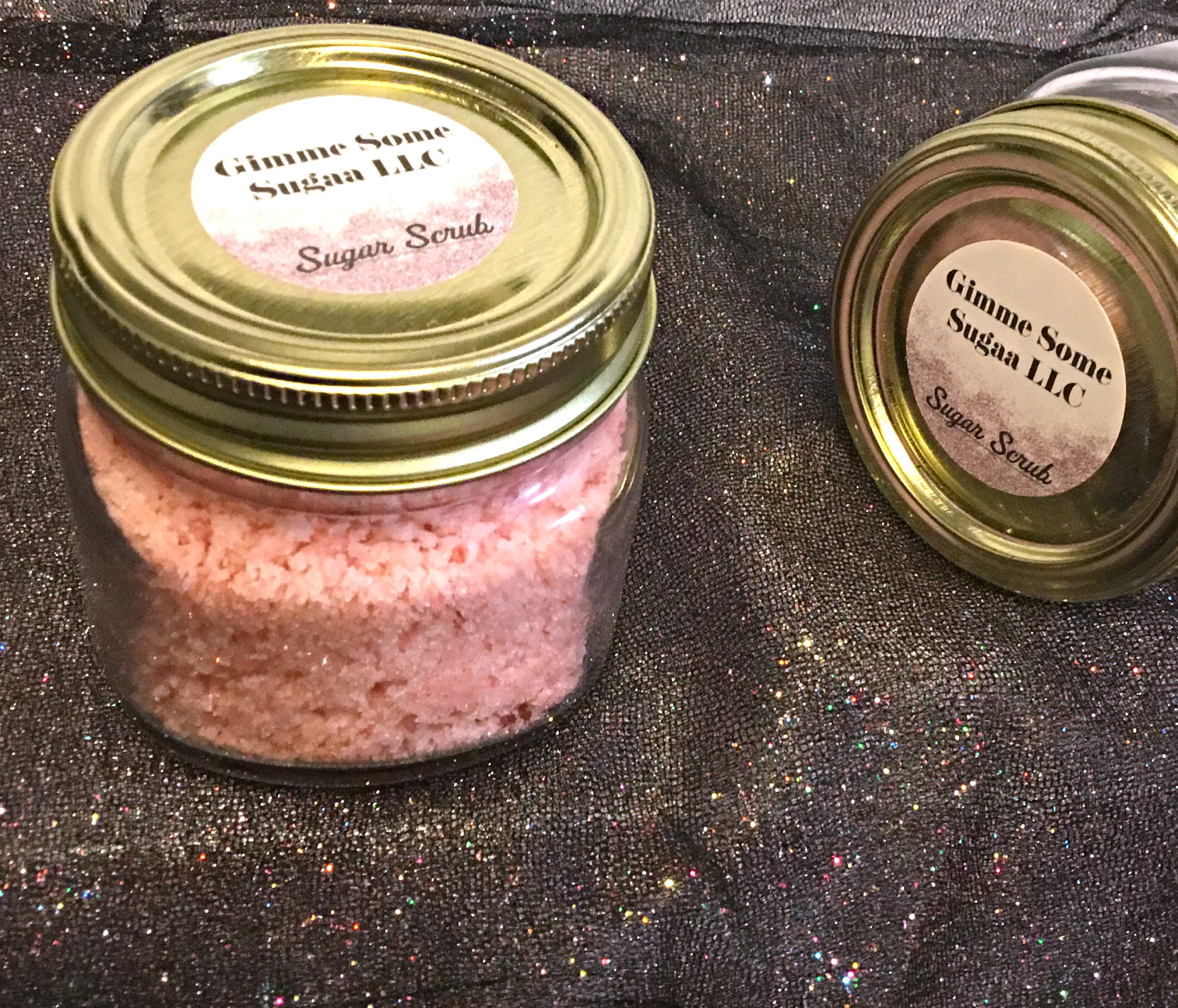 Gimme Some PattiMint (Peppermint) .............................$13.00
This scrub helps to "wake up" tired and dull looking skin. It controls the secretion of oil build up that causes acne and prevents clogging of pores. It also helps to remove unwanted dead skin through gentle exfoliation and is a great source of vitamins and minerals due to the healing properties of menthol that stimulate blood flow, relieves tension headaches, & improve mental focus. Gimme Some PattiMint also instantly soothes and softens, replacing skin with it's natural hydrating oils. It can also help soothe cracked nipples from breastfeeding as well. The refreshing properties of peppermint oil help to relieve stress and relax tense muscles. Sugar is also a natural source of glycolic acid, that is known to reduce the signs of aging, evens skin tone and removes dead skin cell buildup.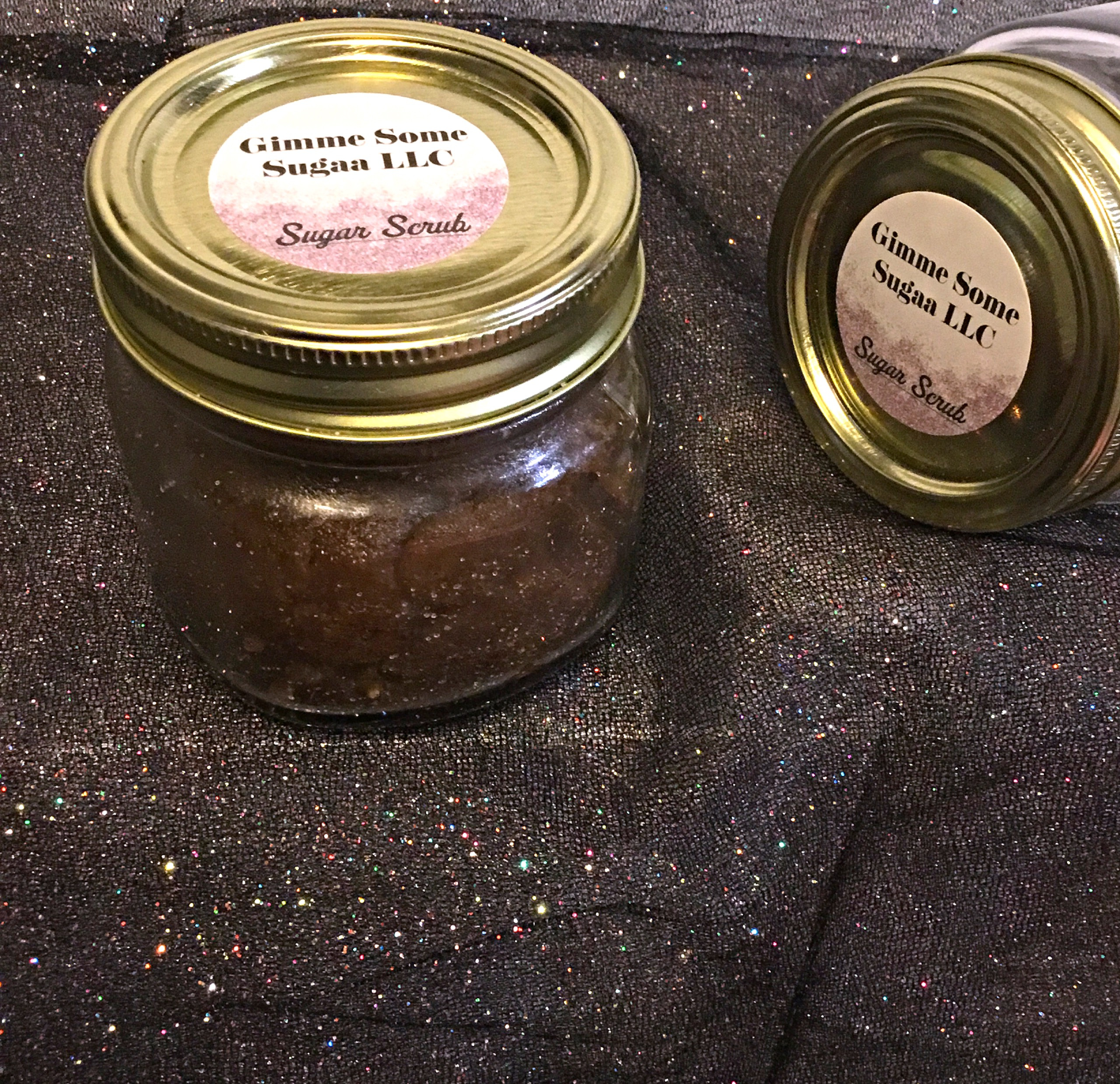 Gimme Some Jammin' Gingerbread ....................................$13.00
This scrub has various beneficial uses for skincare, such as anti-aging, antioxidant, and astringent properties all from the help of RAW ginger that is added. It also increases blood flow, helps clear blemishes, and aids toning of the skin. By applying this scrubs, it's detoxifying and invigorating qualities reduces cellulite, stimulates circulation, gently exfoliates while saturating your pores with healthy oils to hydrate and moisturize your skin, improving elasticity and helping keep skin bright and radiant. It is also wonderful for acne, eczema, dark spots, and blemishes.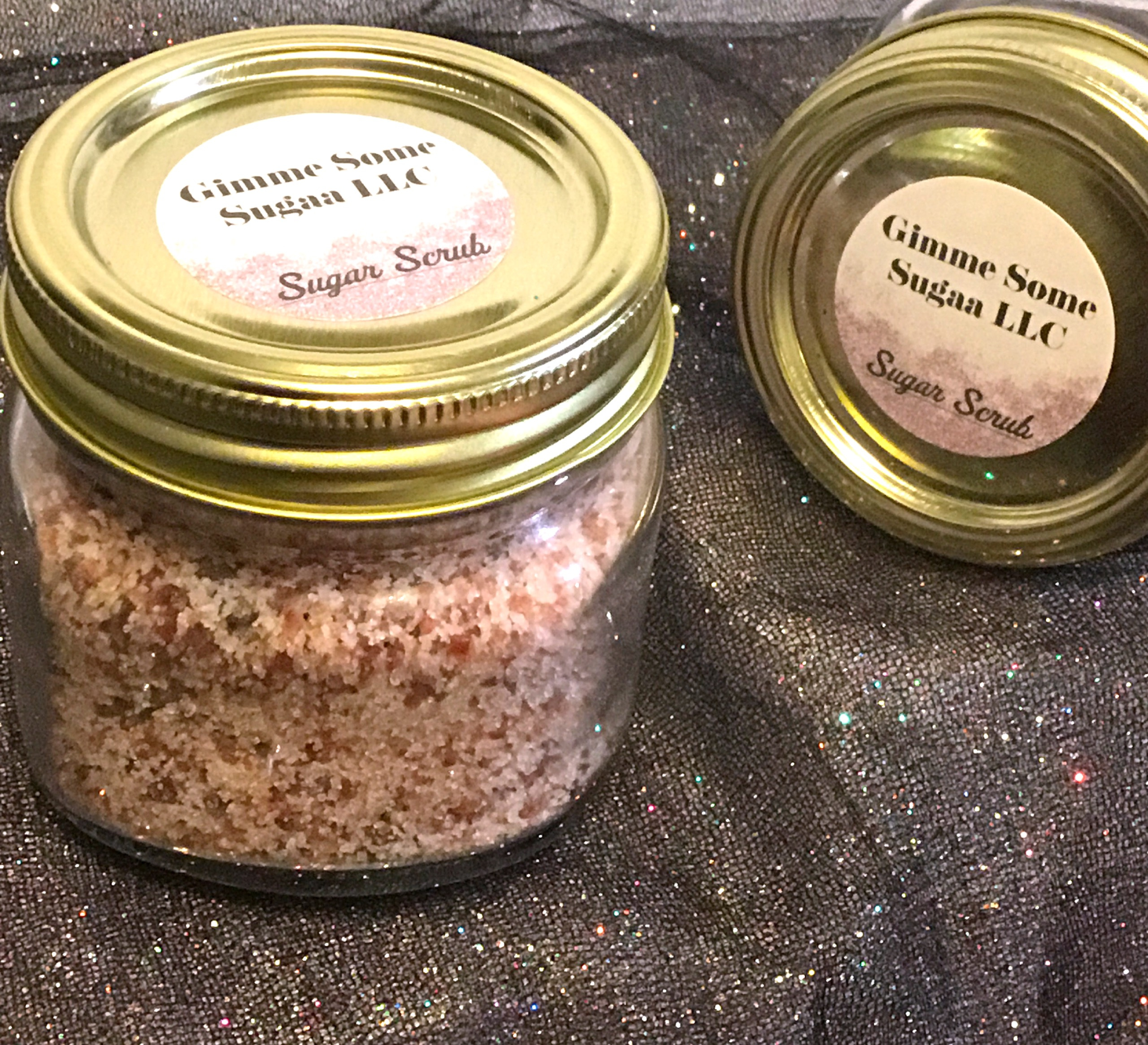 Gimme Some Sweet Candied Cranberry ...............................$13.00
This scrub gently exfoliates the skin, while also smoothing and improving your skin's elasticity. By being a natural superfood, cranberries, are fully packed with vitamins and antioxidants that help slow down premature aging, tones the skin, brightens to help keep your skin's appearance soft and glowing. Valued for it's natural antiseptic properties, this sweet scrub is beneficial for ALL skin types, but for those who have rough, dull, or damaged skin, you can reap excellent benefits as this product will help to regenerate, moisturize, replenish & restore the healthy look and feel of your skin.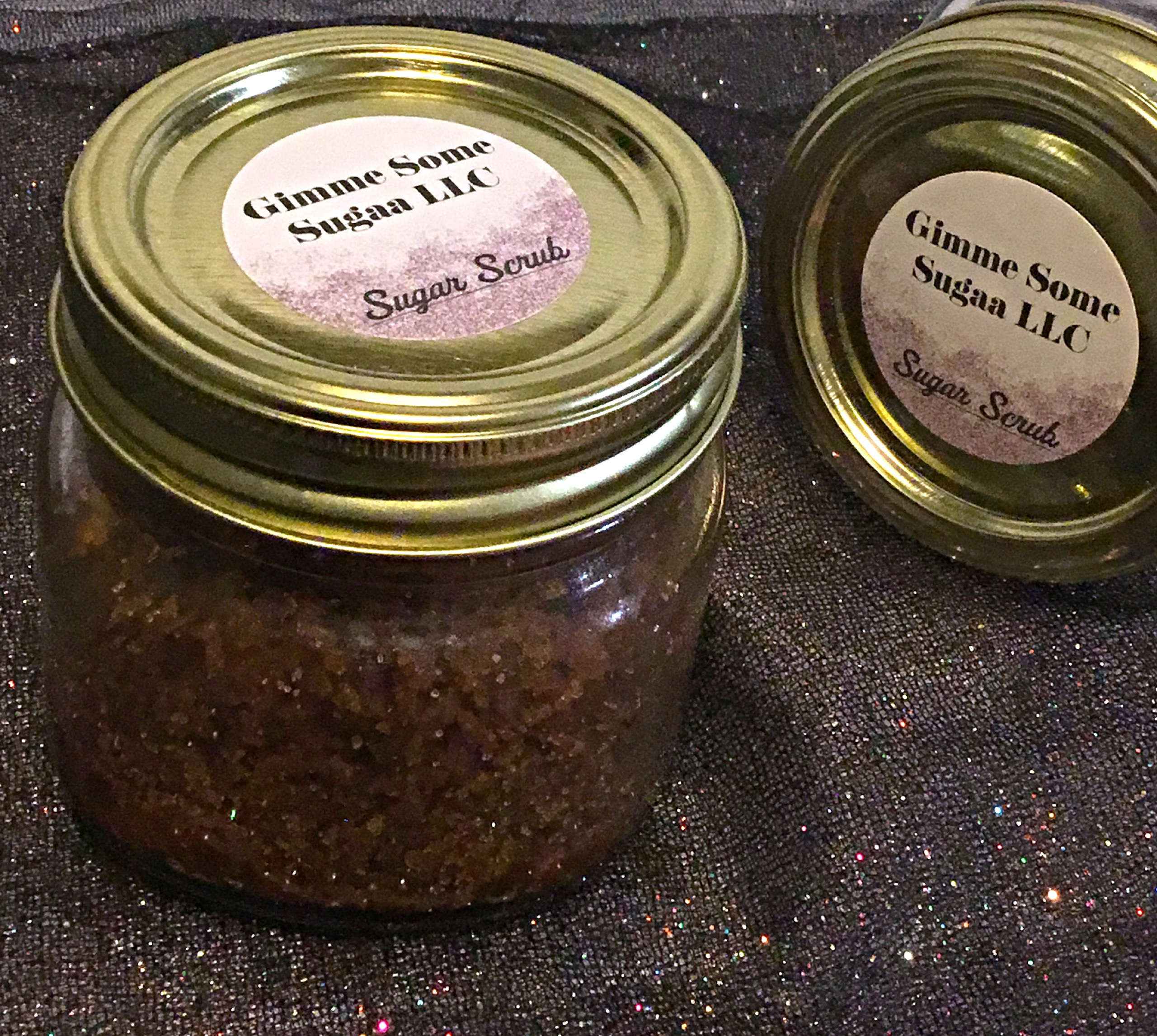 Gimme Some Roasted Campfire S'mores ........................................$13.00
This scrub will have your skin feeling good and smelling awsome. By gently exfoliating the skin, the organic cocoa powder used is a mineral packed with antioxidants that help repair skin cells, and neutralize harmful free radicals. Along with the warm, delicious, and yummy smell, it also moisturizes and removes dead skin cells, lightens, prevents breakouts with natural oils promoting cell regineration that help your skin's natural defense against bacteria that clog and build up causing acne and redness, leaving your skin smooth, properly nourished, and marshmellowy soft :)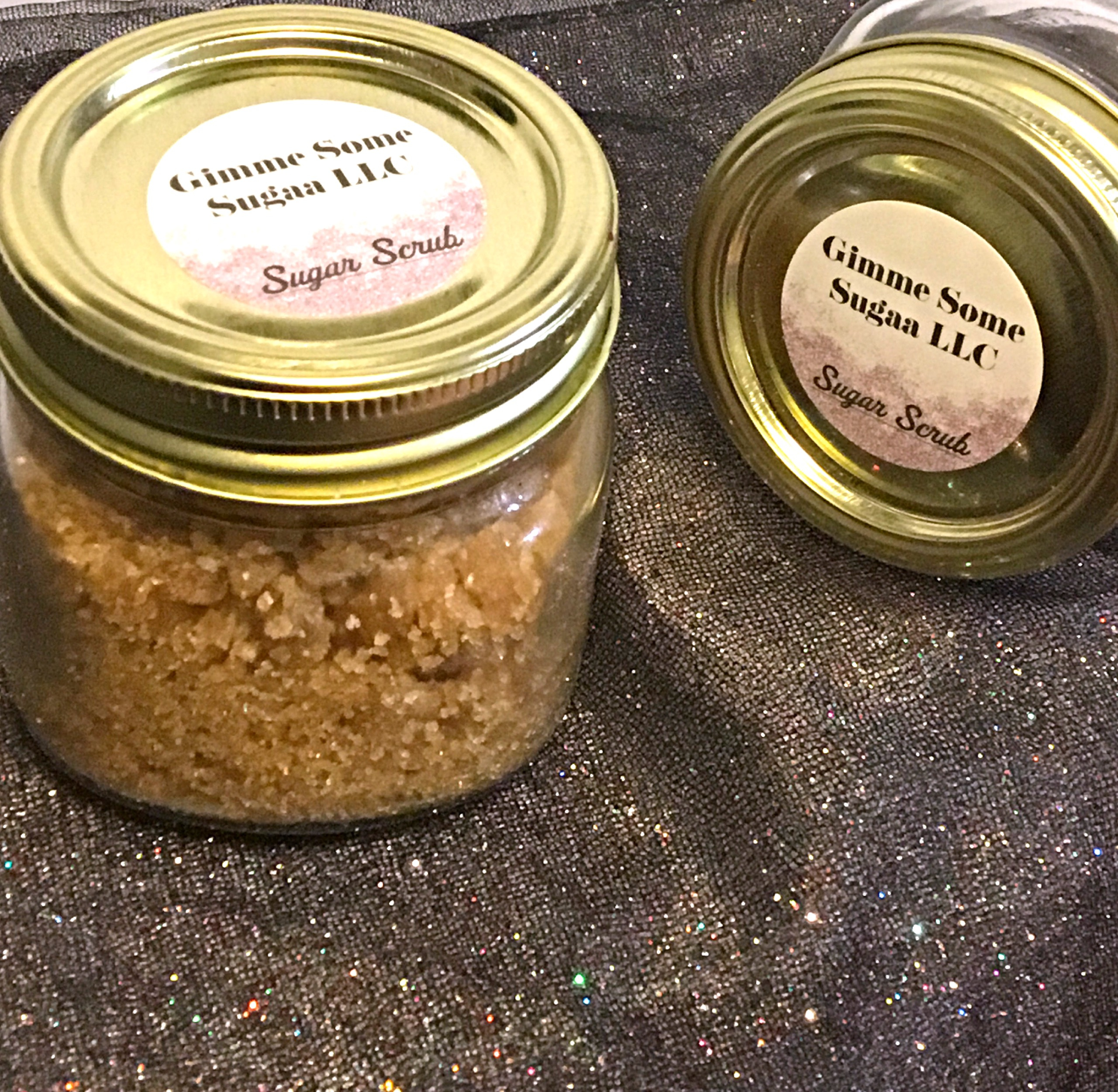 Gimme Some Bubblin' Brown Sugaa .....................................................$13.00
This scrub not only smells scrumptious and yummy, it has amazing benefits for your skin. It exfoliates, removing dead skin cells to promote healthy skin repair, it nourishes, moisturizes, and evens out skin tone while the honey that is added, will smooth the complexion of your skin leaving it naturally glowing and radiant. This scrub is gentle and hydrating to the skin, preventing future breakouts and dry patches. Brown sugar also helps to improve sun damage and the natural oils contained offers support to aging and sagging skin. The sweet smell of this scrub will have you feeling good while you indulge your skin in healthier care beautifully.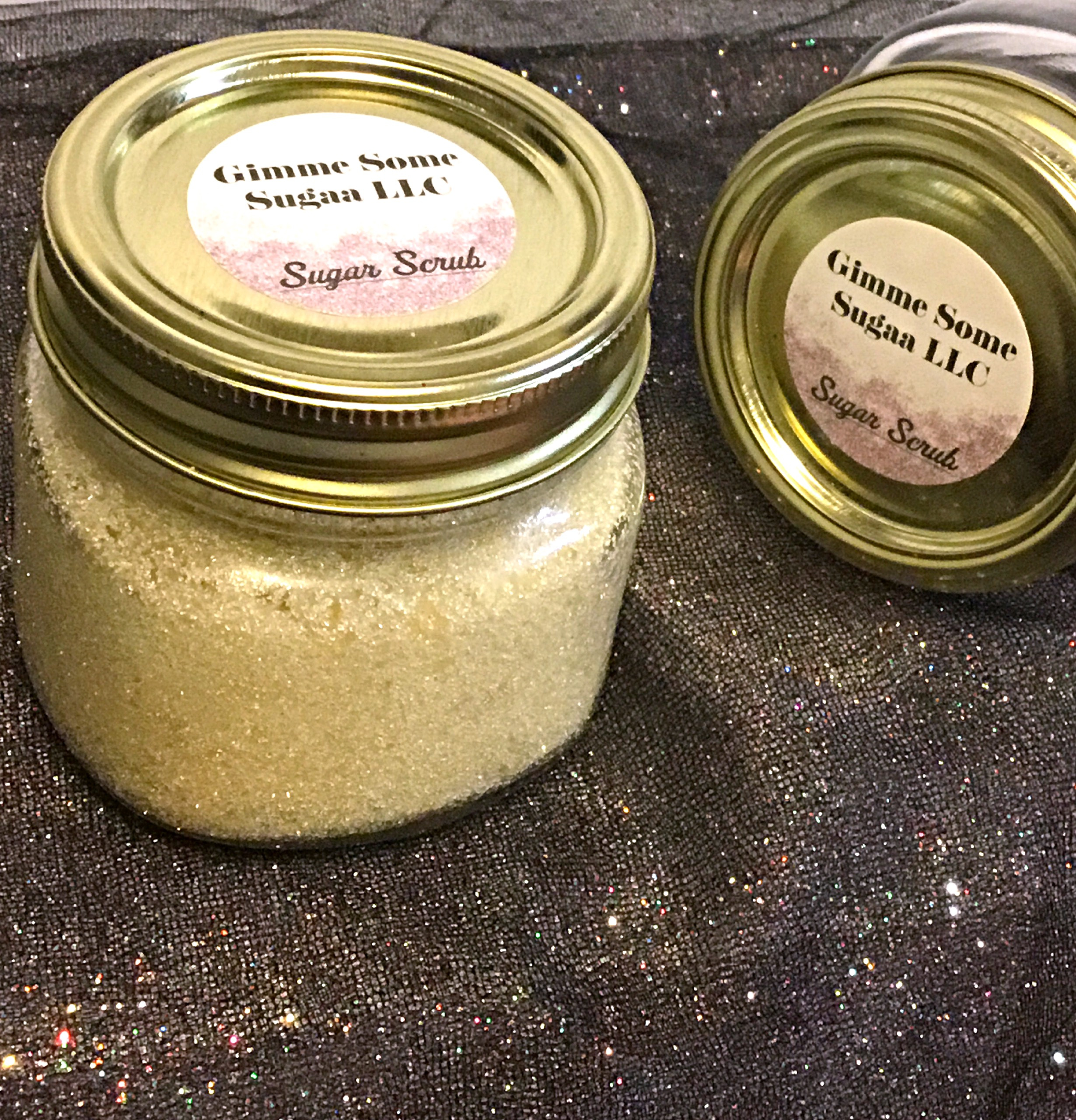 Gimme Some Sweet Sparkling Lemonade ......................................$13.00
This scrub not only smells sweet, it is packed with Vitamin C which is good for your skin. Because of all the minerals and nutrients naturally found in lemons, it can be used to moisturize your skin, lighten sun & age spots, even out skin tone. Plus, being a natural astringent it can also tighten skin pores and improve overall skin complexion. Lemon juice lightens scars and dark spots. While being a natural exfoliating agent, sugar helps to get rid of dead skin cells and is a natural source of glycolic acid which helps to even out skin tone, unclog pores and improve skin's elasticity and texture. Vitamin C is also a great antioxidant for neutralizing free radicals and boosting collagen production which is very important. Free radicals attack the healthy cells, damage them and causes redness and inflammation. This scrub helps to smooth fine lines, reduce wrinkles, improve and enhance the overall look of your skin. Lemons work wonders on your skin. It has natural antibacterial properties which help to cure and prevent acne breakouts.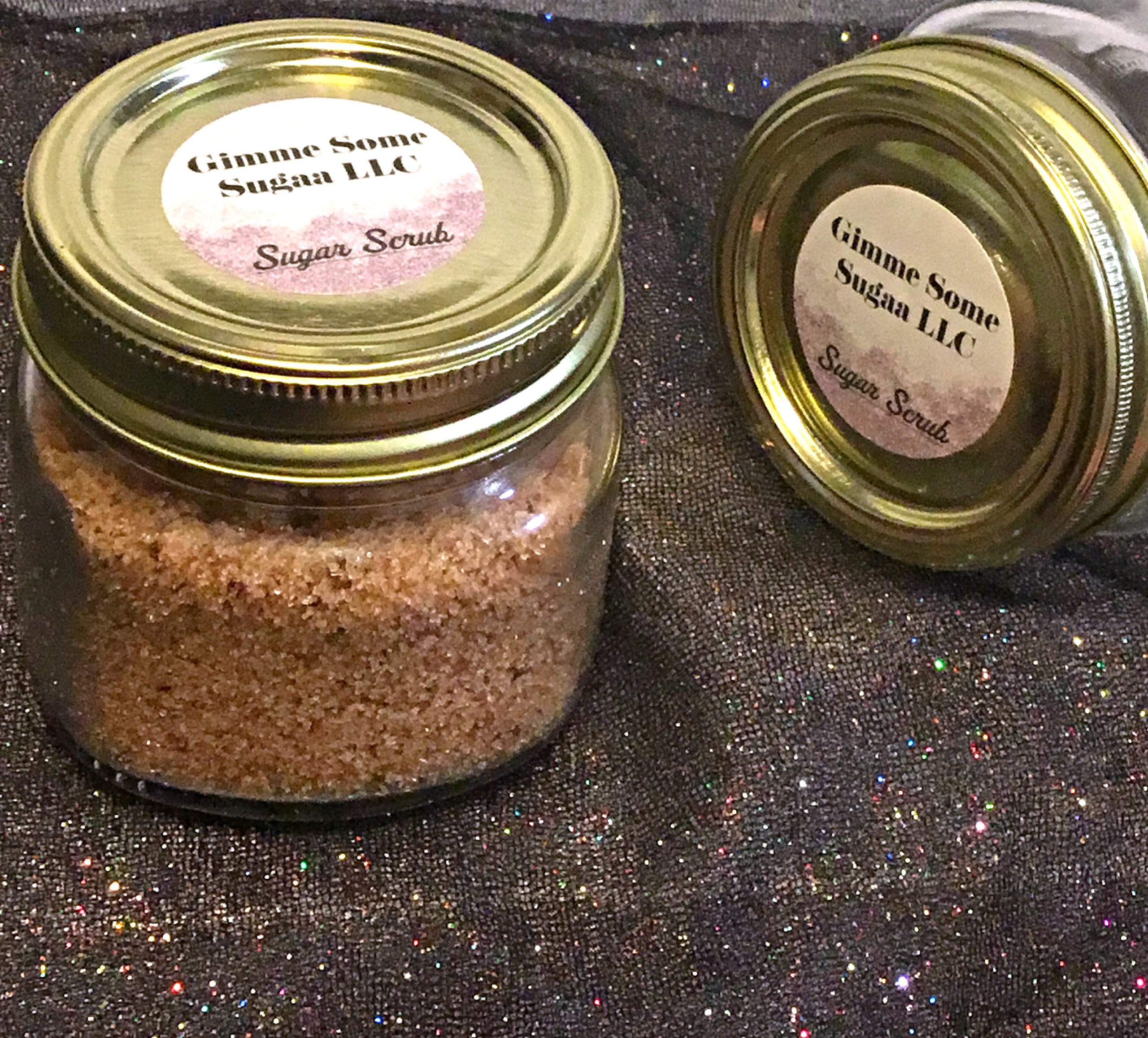 Gimme Some Sweet Sugared Strawberry.............................................$13.00
This scrub smells so juicy and delicious, when applied, it can be used as a face mask to fight oily skin, gently exfoliate dead skin cells leaving skin noticeably smooth and soft. Strawberries contain vitamin C which is known for lightening skin, and for making it more dewy and smooth. It can also be used to lighten and hydrate dark lips. Strawberries work as astringents too and can be used to reduce puffiness and dark circles. Strawberries are naturally acidic and full of healthy vitamins and antioxidants that aid in anti-aging, treating skin inflammation, smoothing blemishes, removing excess dirt and sebum build up while sweetly moisturizing and hydrating skin leaving it looking nourished and supple.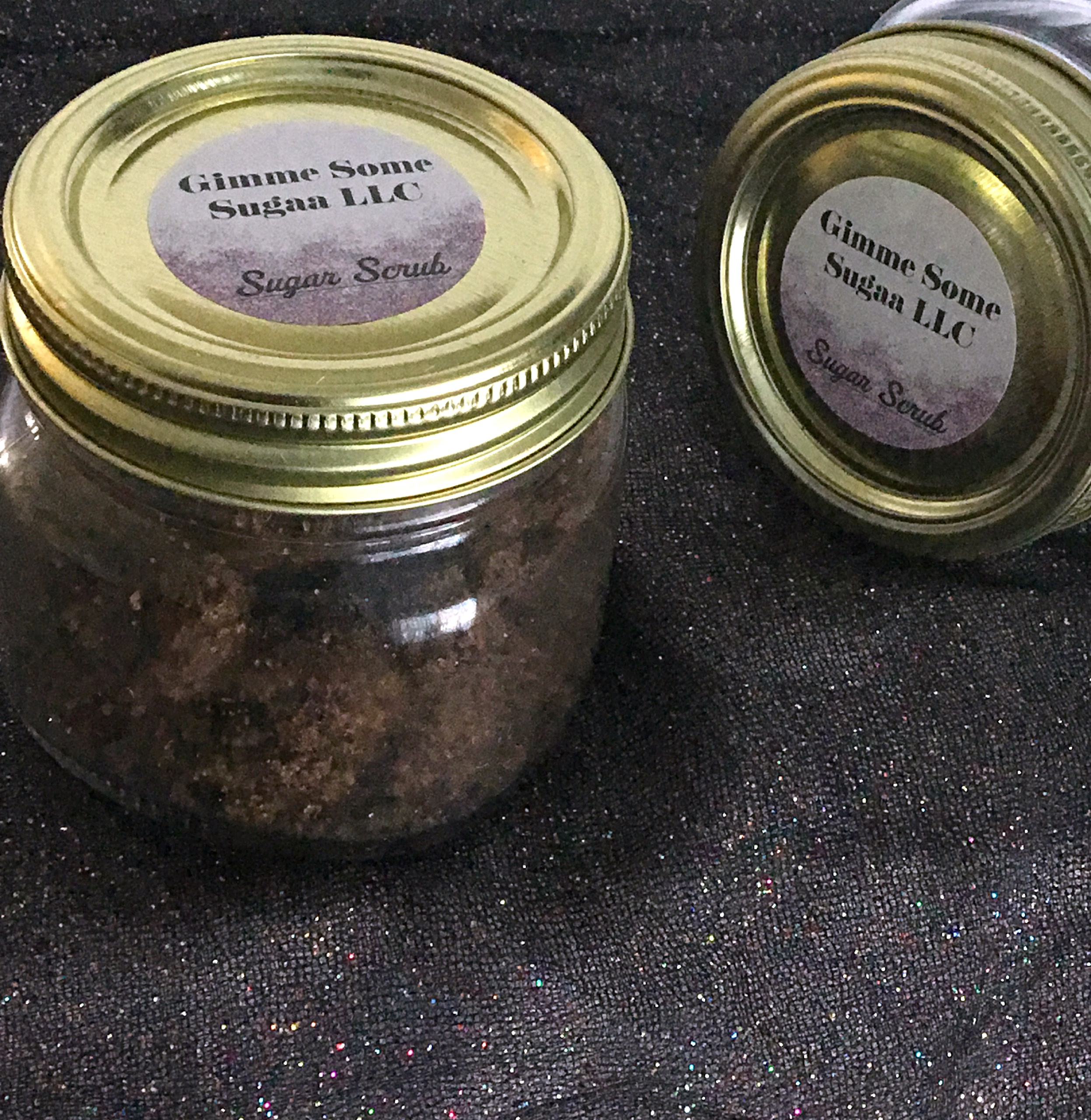 Gimme Some Rich Coffee Bean ................................................$15.00
This scrub, which contains caffeine, is loaded with antioxidants, which help to fight premature skin aging like wrinkles, sun spots, and fine lines. It can also help reduce the signs of stretch marks, which is especially helpful after having children or drastically losing weight. Caffeine that is found in coffee typically increases blood flow, and may reduce the appearance of cellulite and give your skin a more even tone. The sugar that is added contains glycolic acid, which is crucial for maintaining healthy skin. The natural glycolic acid in sugar not only helps condition and moisturize skin, but protects it from harsh toxins. While we all know the benefits that caffeine has on the mind and body when we drink it, the lesser known benefits are the effects it has when its applied to the skin. It can minimize the appearance of puffy eyes, caffeine restricts blood vessels, which reduces swelling and inflammation. It can also help dark circles under the eyes. So skip the caffeine in a cup and enjoy your caffeine in the shower :)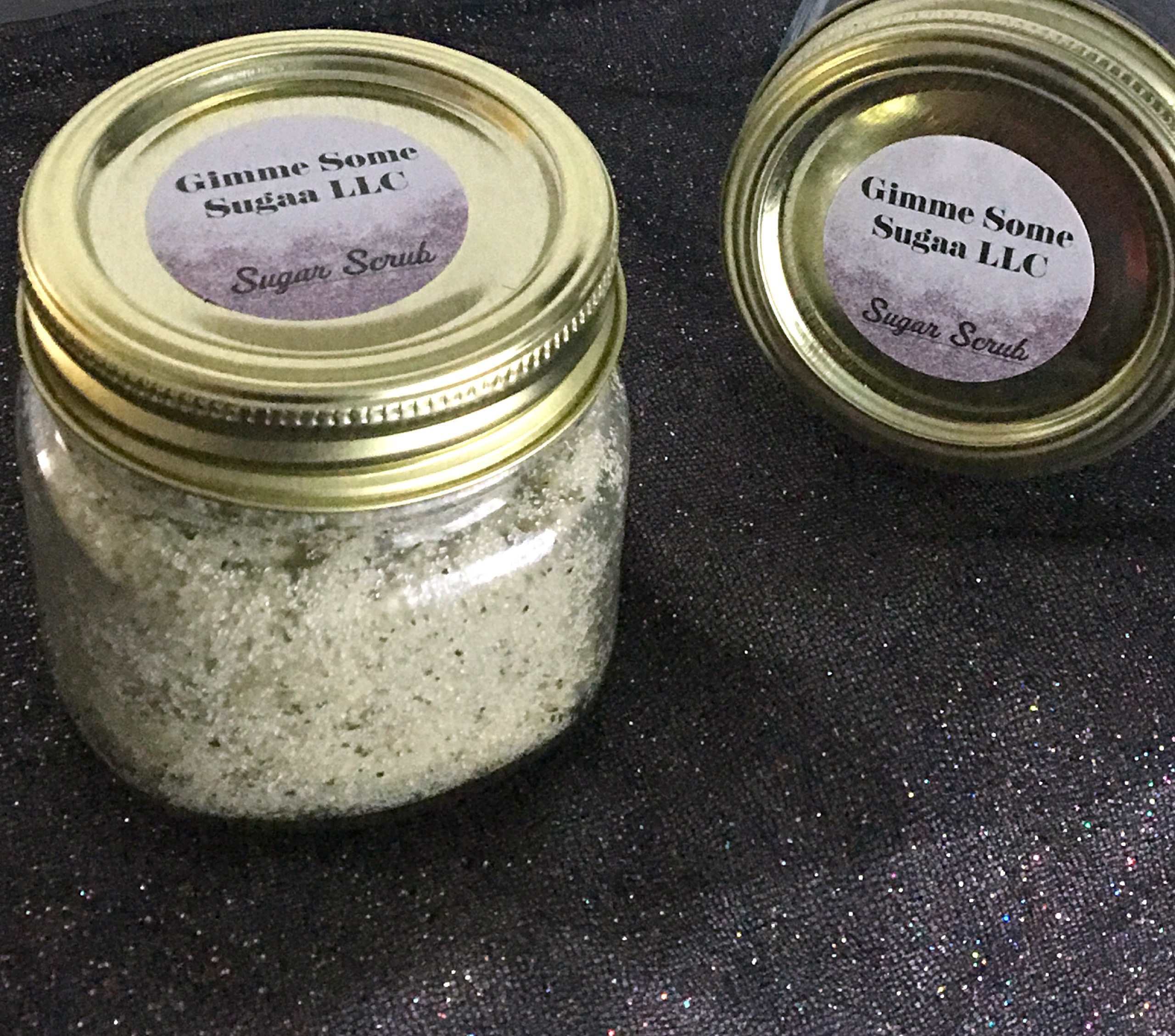 Gimme Some Fresh Green Tea......................................................15.00
This scrub contains antioxidant properties found naturally in green tea that may help to reactivate cells and help fight against damaged skin. Minerals in this sweet scrub will help tighten pores, remove toxins, reduce redness and moisturize your skin. Green tea also soothes and calms the skin, reducing itching and inflammation that may result in redness. There are many anti-inflammatory properties, which make it a great ingredient and product for sensitive skin sufferers, like myself. Skin conditions such as eczema, psoriasis and rosacea can all reap benefits from the anti-inflammatory action of green tea. Green tea contains natural catechins, which are anti-bacterial agents that suppress acne-causing bacteria and help regulate hormonal imbalances and clear clogged pores causing acne build up.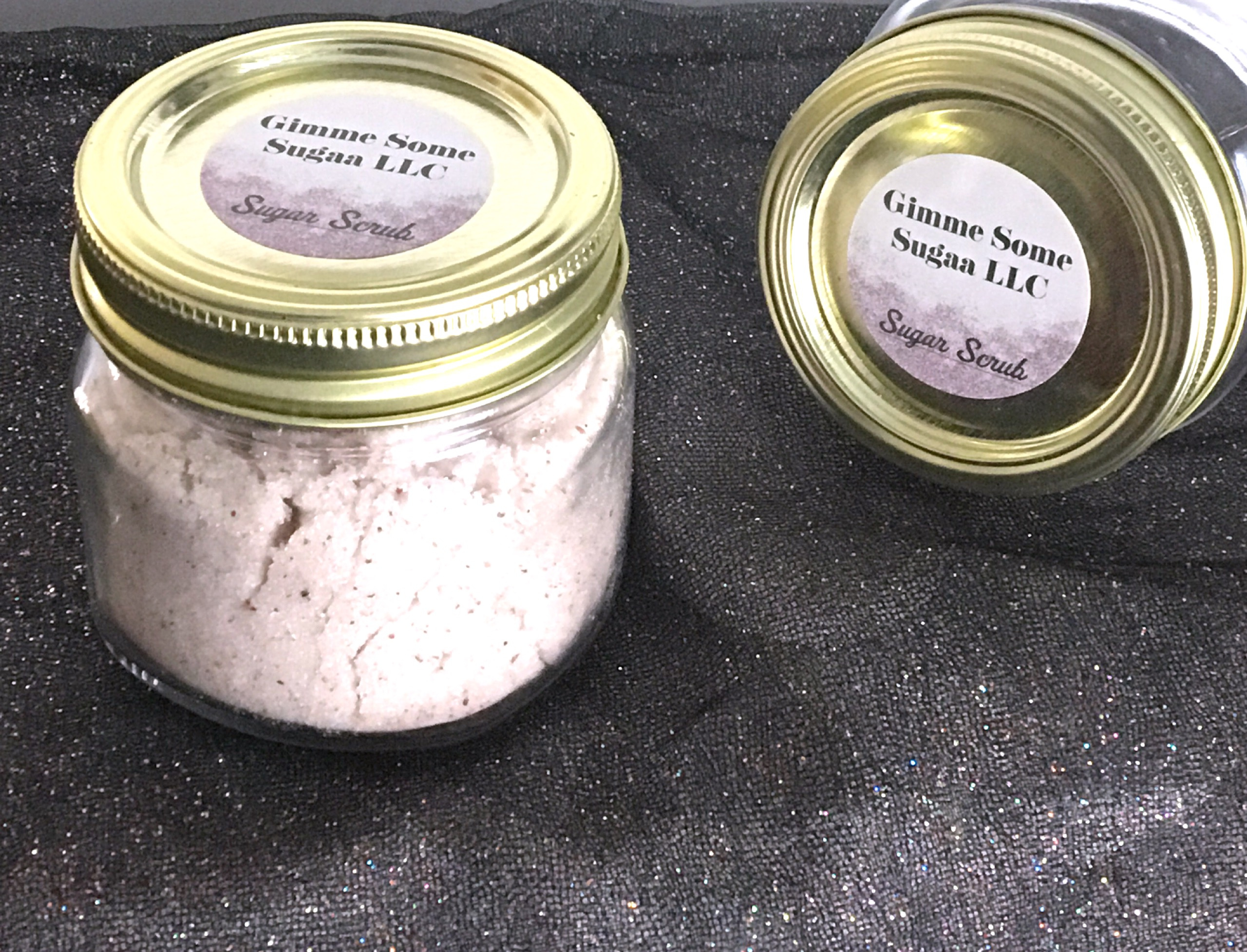 Gimme Some Soft Rose Petal.....................................................................15.00
This scrub is tough enough to remove dead skin cells, but still gentle enough to exfoliate, replacing your skin with hydrating oils that will leave you with a fresh and healthy look. The sweet sugar added gently removes dirt, oil, and clears clogged pores that cause acne build up. It reduces the appearance of skin imperfections and promotes an even skin tone and healthy complexion. Being a rich source of vitamin C, rose petals work as an excellent sunblock as well. They have cooling properties that can soothe your skin and protect the outer layer of your skin from sun damage. Rose petals help control excess oil, unclog pores and also keep your skin looking supple and glowing. Rose Petals have many natural anti-inflammatory properties which can actually help reduce the inflammation or redness on your skin. As a natural astringent, rose helps tighten pores and hydrates the skin for a healthy glowing complexion.
Warning: By indulging in Gimme Some Sugaa Scrubs, Sugar addiction may occur, ENJOY :)
Sugar Scrubs:
PattiMint (peppermint)


Jammin' Gingerbread
Sweet Candied Cranberry
Roasted Campfire S'mores
Bubblin' Brown Sugaa
Sweet Sparkling Lemonade
Sugared Strawberry
Rich Coffee Bean
Fresh Green Tea
Soft Rose Petal